Get Nature's Most Powerful Superfoods in one scoop and 30 seconds a day without all the hassle and expenses of juicing. Now you can be confident that you are getting everything you need for optimal health!
Increase Overall Energy
Reduce / Eliminate Bloating
Support Gut Health
Empower Your Immunity
Get Nature's Most Powerful Superfoods in one scoop and 30 seconds a day without all the hassle and expenses of juicing. Now you can be confident that you are getting everything you need for optimal health!
Increase Overall Energy
Reduce / Eliminate Bloating
Support Gut Health
Empower Your Immunity
Use code: 'freeship' at checkout to get free shipping on this product.
*Cannot be combined with any other discount*
If you're one of the 3 out of 4 of us that aren't getting enough daily fruits and vegetables, it's time to upgrade your game. Our gluten-free, vegan friendly, super food green juice not only supplements any dietary program – it empowers your immune system through a daily dose of probiotics and 53 essential nutrients in every serving. You will feel the difference and wonder why you never took this one before.
Easily Maintain Your Ideal Weight
Once your metabolism has reset and your hormones and working as they should, you'll not only lose weight, but it will be easier to maintain!
Feel Awake, Alert, And Energized Throughout The Day
No more coffee or energy drinks to get you through the day. Once you've restored your body's acid-alkaline balance, you'll have seemingly never-ending reserves of energy to call on whenever you need.
Eliminate Toxins From Your Body
Let go of all the junk your body has accumulated over the years, and help your body heal itself.
Look Younger
Cleansing your body from the inside-out will significantly change your appearance. You'll enjoy smooth, blemish-free skin, and strong hair and nails.
Save Time
When life happens, you can maintain your healthy lifestyle. One quick shot of green juice every morning is all you need to stay on track.
Directions:
Take 1 Scoop Daily at Breakfast
Organic Barley Grass, Organic Wheat Grass, Organic Alfalfa Grass, Organic Oat Grass, Organic Stevia Leaf, Organic Aloe Vera Gel, Organic Red Beet, Organic Spirulina, Organic Cracked Cell Chlorella, Organic Kelp, Organic Dulse, Organic Acai, Organic Apple Fiber, Organic Blackberry Powder, Organic Strawberry Powder, Organic Blueberry Powder, Organic Raspberry Powder, Organic Cranberry Powder, Organic Goji Powder, Organic Acerola, Organic Pomegranate
Over time you can reduce and even eilminate the feelings of bloating when you take our Raw Green Juice consistently. One scoop a day is all it takes to feel healthier and more vibrant!
Just 1 scoop a day to supercharge your life, increase energy levels, and transform your health.
Is it vegan?
Yes. All of our products are vegan friendly.
Will this fit with the ketogenic diet?
Yes. Superfood Raw only has 4 carbs per serving and is a great way to get a ton of nutrients while on a ketogenic diet.
Is this the same as eating whole fruits and veggies?
A big difference between juiced vegetables and whole vegetables is digestion. According to the Living and Raw Foods website, juicing removes the indigestible fiber that is present in vegetables. Much more of the nutrients are then absorbed by the body as compared to eating the whole vegetable. Certain diseases, such as inflammatory bowel diseases and mal-absorption, make it difficult to digest food. This can often lead to malnutrition, since many nutrients are not readily absorbed by the body. Juicing is a way for the body to benefit from vegetables because it is easier to digest. However, we recommend continuing to eat fruits and vegetables. Superfood Raw is a convenient way to ensure you are getting the proper number of servings.
Is it made in the USA?
Yes. all of our supplement products are made at our manufacturing facility in Naples, FL.
Can I take more than 1 scoop per day?
Absolutely! Recommended serving is one scoop per day because with one scoop you will get all the proper nutritional support you need for optimal health. However, if you enjoy the taste or simply need a boost of energy, then drink away.
Customer Reviews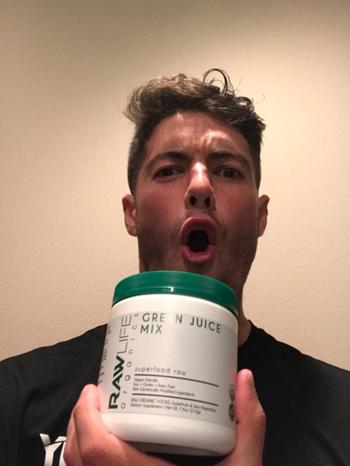 08/19/2020
Cheat code For Greens
This is the best quality superfood for greens on the market. My gut performance feels at all time high levels. Also allows me to feel better about eating cheat meals. Have about one-two servings per day, would recommend this to anyone trying to improve their day to day performance.
Daniel T.

United States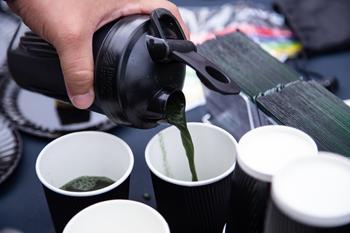 08/17/2020
The best supplement I've ever taken!
I've taken the green juice for a little over four months now, and one way that I know it's made a huge difference in my life is – when I don't take it, I feel the difference. It is very distinct how my energy level, my feeling of bloatedness, and my overall feeling of well being is different when I haven't taken the green juice than when I have. I ask everyone if they take a green juice, and recommend everyone try it for at least seven days. It's hassle free (literally takes 30-45 seconds to do), you can add it to your current regimen so it's no additional hassle, and the taste is great if you take it only mixing it with six-eight ounces of water. By and far this is definitely something everyone should use, and if it works for them – continue to use for as long as they can. Your body will definitely thank you.
Carlos F.

United States
06/11/2021
Better than we expected.
I say better than expected for two reasons. The taste is better than I expected for one, and two my wife just gave birth and this is helping her with digestion, and getting her majority of the nutrients she needs to breast feed. Definitely recommended.
Curt

US
05/03/2021
Gut Health
This a must for me. I can completely tell a difference in my gut health and overall well being when I have this product. Life changing supplement. I'll probably take this for many years to come. I recommend to everyone who asks about it.
Daniel T.

US
02/02/2021
This greens is the real deal
This is my second time using this mix. If you've never had greens before I suggest giving it a try. This is by far the best tasting one I've had with no stomach or bloating issues. I do wish it was a bit cheaper as I would buy more! Thank you for the excellent product
George C.

US